The Economic Cost of Gun Violence
$557 Billion Annually, Comparable to 2.6 Percent of US Gross Domestic Product
Summary
At a moment when the United States needs to marshal all its resources to invest in education, worker skills, and building healthier, safer, more sustainable communities, our federal, state, and local governments are spending a combined average of nearly $35 million each day to deal with the aftermath of gun violence across the country.
Put simply, America cannot afford gun violence.
Executive Summary
In an average year, gun violence in America kills 40,000 people, wounds twice as many, and has an economic consequence to our nation of $557 billion.
Without a doubt, the human cost of gun violence—the people who are taken from us and the survivors whose lives are forever altered—is the most devastating. In addition to this human impact, examining the serious economic consequences of gun violence offers a wider lens for understanding just how extensive and expensive this crisis is.
This staggering $557 billion figure is five times the nation's budget for the Department of Education, which funds preschool through college for millions of Americans.1US Department of Education, "FY 2022 President's Budget," May 28, 2021, https://www2.ed.gov/about/overview/budget/budget22/budget-highlights.pdf. If shooting tragedies were prevented from occurring in the first place, the vast funds spent in the aftermath of gun violence could be directed toward beneficial and productive investments such as educating the next generation.
This $557 billion problem represents the lifetime costs associated with gun violence, including three types of costs: immediate costs starting at the scene of a shooting, such as police investigations and medical treatment; subsequent costs, such as treatment, long-term physical and mental health care, earnings lost to disability or death, and criminal justice costs; and cost estimates of quality of life lost over a victim's life span for pain and suffering of victims and their families.
As survivors, families, communities, employers, and taxpayers, we all pay for the enormous costs associated with this violence, whether we own a gun or not. The daily toll is staggering:
Taxpayers, survivors, families, and employers pay an average of $7.79 million daily in health care costs, including immediate and long-term medical and mental health care, plus patient transportation/ambulance costs related to gun violence, and lose an estimated $147.32 million per day related to work missed due to injury or death.
American taxpayers pay $30.16 million every day in police and criminal justice costs for investigation, prosecution, and incarceration.
Employers lose an average of $1.47 million on a daily basis in productivity, revenue, and costs required to recruit and train replacements for victims of gun violence.
Society loses $1.34 billion daily in quality-of-life costs from the suffering and lost well-being of gun violence victims and their families.
The large variation in rates of gun deaths and injuries in the 50 states and Washington, DC, translates into substantial differences in the economic burden from this violence.
Compiling this information is vital so that policymakers and constituents can understand how resources are currently being spent and to provide direction for a different tomorrow. The average annual cost for overall gun violence in the United States is $1,698 for every resident in the country. However, in states with stronger gun laws, the economic toll of gun violence is less than half this amount, whereas in states where gun laws are weaker and gun injuries and fatalities are higher, gun violence costs residents double or more this amount per person.
Calculate the Cost of Gun Violence
Introduction
On May 24, 2022, an 18-year-old boy shot 38 people, 21 fatally, including 19 children and two teachers—at Robb Elementary School in Uvalde, Texas.2Jessica Schladebeck, "2 Victims Wounded in Robb Elementary School Shooting Slowly Improving," New York Daily News, May 31, 2022, https://bit.ly/3AIZgZb. This one horrific incident of gun violence left in its wake unspeakable human tragedy, but also an estimated $244.2 million price tag, of which $10.2 million is borne by taxpayers.3Costs estimated from Everytown for Gun Safety Support Fund, "Calculate the Economic Cost of Gun Violence," accessed July 13, 2022, https://everytownresearch.org/report/economic-cost-calculator/. Today in the United States we are all paying an enormous economic cost, as well as an unmeasurable human cost of trauma and loss, for our failure to prevent gun violence.
This report doesn't try to put a price on human lives. Rather, it details the depth and breadth of America's gun violence crisis in an effort to show yet another reason why we must work to solve it now. Quantifying what we spend in the aftermath of a shooting—whether the shooting was unintentional, an assault, a shooting by police, or an act of suicide—helps us understand the price we pay for this violence.
This report highlights the costs to survivors, their families, and employers, and costs borne by the government and paid for with taxpayer dollars. It includes three types of costs: out-of-pocket and other directly measurable costs (such as medical co-pays, court and police salaries), indirect costs (such as lost wages due to disability or death), and intangible quality-of-life costs to account for pain and suffering.
All of these economic consequences ultimately pale in comparison to the pain of losing a life or a loved one. Our hope is that by combining strong data with survivors' testimonies, we present a holistic picture of America's gun violence epidemic and the sense of urgency to solve it.
Everytown for Gun Safety Support Fund worked with the leading health economist researching the cost of gun violence, Ted R. Miller, and other researchers at the Pacific Institute for Research and Evaluation (PIRE), notably David I. Swedler and Bruce A. Lawrence, as well as Kathryn Schnippel Bistline and Erica Jade Mullen, to calculate the economic impact of gun violence. Data featured in this report is from the federal Healthcare Cost and Utilization Project (HCUP), the Centers for Disease Control and Prevention (CDC), and state hospital records for 2019, and other peer-reviewed studies as detailed in the Methodological Note. This report uses an Injury Cost Model developed by PIRE that the federal government has employed for decades, such as in the CDC's work on costing injuries from a broad array of causes, including gun violence.4Bruce A. Lawrence et al., "The Consumer Product Safety Commission's Revised Injury Cost Model," Pacific Institute for Research and Evaluation, February 2018, https://www.cpsc.gov/s3fs-public/ICM-2018-Documentation.pdf; Bruce A. Lawrence et al., "Quality of Life Loss Estimation Methods for the WISQARS Cost of Injury Module," Pacific Institute for Research and Evaluation, January 2020, https://www.cdc.gov/injury/wisqars/pdf/pire_wisqars_cost_injury_quality_life_loss_estimation_methods-508.pdf.
Everytown and PIRE's previous analysis on economic costs of gun violence relied on an estimated Value per Statistical Life lost to an injury or death of $5.5 million (in 2018 dollars), derived from the US Department of Transportation. Subsequently, the US Department of Health and Human Services prescribed a new amount for the Value per Statistical Life lost of $10.9 million (in 2019 dollars).5US Department of Health and Human Services, Office of the Assistant Secretary for Planning and Education, "Guidelines for Regulatory Impact Analysis," 2016, https://aspe.hhs.gov/sites/default/files/migrated_legacy_files//171981/HHS_RIAGuidance.pdf; Gabrielle F. Miller et al., "Monetised Estimated Quality-Adjusted Life Year (QALY) Losses for Non-fatal Injuries," Injury Prevention (online print ahead of publication, March 16, 2022), https://doi.org/10.1136/injuryprev-2021-044416. In order to be consistent with current federal government data, this report uses the new amount, resulting in a considerable increase in total costs based on higher quality-of-life loss estimates. Our wage loss estimate has also been updated with data from the most recent available business cycle (2010 to 2018).
The Breakdown: $557 Billion in Gun Violence Costs
$2.8 billion
Medical Costs

Immediate and long-term medical care, mental health care, and ambulance and patient transport
$53.8 billion
Work-Loss Costs

Income lost because of victim death and disability, caregiver work losses, and perpetrator incarceration
$11.0 billion
Police & Criminal Justice Costs

Police response and investigation, court administration staff and processes, and incarceration
$0.5 billion
Employer Costs

Employer costs for lost revenue and productivity
$489.1 billion
Quality-of-Life Costs

Value of pain and wellbeing lost by victims and their families
Costs to Taxpayers, Survivors, Families, and Employers
Supreme Court Justice Oliver Wendell Holmes Jr. was known to say that taxes are the price we pay for a civilized society.6Oliver Wendell Holmes Jr., accessed March 17, 2022, https://quoteinvestigator.com/2012/04/13/taxes-civilize/. Taxation buys our children's education, economic security when we are older, garbage pickup, park maintenance, food and medicine safety regulation, public safety, and much more. These government services contribute to the good of our society.
What is clear from this report's analysis is that while not every household has a gun, and while not all communities experience high levels of gun violence, we all bear the economic burden of injuries and deaths caused by firearms. Roughly $12.62 billion in tax money per year pays for our country's gun violence epidemic. Instead of funding education, social services, economic redevelopment grants, and so many other vital public goods from which we all benefit, we are spending precious funds on an epidemic that brings nothing of benefit and plenty of heartbreak and shattered lives.
While costs of course vary depending on the circumstances of the incident, each gun death costs US taxpayers an average of $273,904 for the initial and long-term repercussions of that incident, and each nonfatal gun injury costs $25,150.7This includes direct costs from the government portion of medical and mental health care plus other relevant government services such as ambulance and emergency transport, police investigations, and criminal justice salaries and processes.
$274,000
Each gun death costs US taxpayers an average of $273,904.
$25,000
Each nonfatal gun injury costs US taxpayers an average of $25,150.
Medical costs: Taxpayers, survivors, families, and employers share billions of dollars in medical costs related to both immediate and long-term medical care, mental health care, and ambulance and patient transport from a shooting incident. The price tag of directly measurable medical costs borne by taxpayers totals $1.57 billion annually.8The combined societal costs for medical care, mental health care, and emergency transport total $2,841,629,594. The portion borne by taxpayers total $1,568,703,576. These separate cost categories do not always sum to the total amount due to rounding.
With the average medical costs for a firearm injury ultimately costing nearly as much as the US median household income for an entire year,9The average hospital stay for a nonfatal gun injury costs more than $62,000. The US median household income in 2019 was $68,703. Jessica Semega et al., "Income and Poverty in the United States: 2019," US Census Bureau, September 15, 2020, https://bit.ly/3mERkhD. Note that patients receive bills for hospital charges that are on average more than four times higher than the cost to the hospital. National Nurses United, "Fleecing Patients: Hospitals Charge Patients More Than Four Times the Cost of Care," November 2020, https://www.nationalnursesunited.org/sites/default/files/nnu/graphics/documents/1120_CostChargeRatios_Report_FINAL_PP.pdf it isn't hard to see how medical bills from gunshot injuries can sometimes add up and financially devastate families. The ongoing, complex nature of the medical and mental health care that some gun violence survivors require means that those costs can last years, decades, or a lifetime.
DeAndra Yates-Dycus's son "Dre" was shot and survived. His medical bills cost more than $10 million over six years.
Read DeAndra's story

DeAndra Yates-Dycus's 13-year-old son, DeAndre "Dre" Knox, was shot in the head by a stray bullet at a birthday party in Indianapolis on February 1, 2014. The shooting left Dre unable to walk or talk and his family struggling to understand what the rest of his life would hold. "When someone survives and they are in a critical state like my son, it's kind of like, What's today gonna bring?" Yates-Dycus said. "Dre survived and that means the world to me, but the everyday battles can take an emotional toll if you allow them to."

In the six years since the shooting, Dre has spent a great deal of time in hospitals. He has epilepsy, secondary to the traumatic brain injury he suffered from the shooting, his mother said, and his quadriplegia makes him susceptible to bedsores and breathing issues. At one point, he was treated at a rehabilitation center 280 miles away from where his family lives, and Yates-Dycus scrambled to pay for gas, food, tolls, and a hotel nearby. After undergoing four surgeries, Dre's medical bills topped $1 million dollars in the first six months following his injury alone and more than $10 million over the past six years, his mother estimates. The family relies on Medicaid to pay for Dre's care.

Gun violence also cost Yates-Dycus her job as a clinical instructor at a local college. She then went to work for herself in an effort to balance taking care of Dre and supporting both him and her other child.

But the particular nature of Dre's medical needs made at-home care too costly for the family to afford while Yates-Dycus works, so she made the tough decision to send Dre to a specialized 24-hour-care facility, which she says costs more than $3,000 per day. They've also raised money from friends, family, and Dre's school to equip their home to be wheelchair-accessible and get a van that allows them to travel with Dre.

"People don't understand what it means to survive gun violence," Yates-Dycus said. "People don't understand what is attached to surviving, which is a high economic cost."

Source: DeAndra Yates-Dycus in discussion with Kaelyn Forde, Everytown for Gun Safety, March 17, 2020.
Taxpayer Costs
Medical
Medical care including Medicaid
Mental health care
Ambulance and patient transport
Shared Costs: Families/Survivors/Employers/Taxpayers
Medical
Immediate medical treatment
Follow-up medical care, rehabilitation, prescriptions, etc.
Mental health care services for victims and immediate family members
Coroner services, as applicable
Work-loss costs: Across the country, gun violence victim and perpetrator work loss accounts for $53.77 billion per year. Families feel the loss of a missing monthly paycheck and benefits—plus the burden of caring for the wounded—even more acutely when the person who was wounded or killed was supporting children or was a main breadwinner. While perhaps not intuitive, it is important to consider both victims' and perpetrators' economic losses to understand the full scope of gun violence on our society and what we lose when guns shatter lives.
Shared Losses: Families/Survivors/Employers/Taxpayers
Work Loss
Forgone earnings or work due to victim injury or death and from perpetrator incarceration
Wage equivalent for unpaid household and caregiver work for victims
Taxpayer Costs: Criminal Justice Services
In addition to the government share of medical care, taxpayers foot the bill for $11.01 billion per year for police investigation, prosecution, courts, and incarceration following a shooting.
Taxpayer Costs
Police & Criminal Justice
Police response and investigation
Court administration
Public prosecutors and defenders
Jail and prison incarceration
Jim Burch, President of the National Police Foundation, shares the economic toll and trauma that law enforcement experience.
Read Jim's Story

Across the country, gun violence places an enormous strain on our first responders and criminal justice systems. Jim Burch served in the Department of Justice for more than 20 years, overseeing initiatives to support state and local law enforcement. Through that work, Burch learned of the human and economic toll that gun violence takes on police departments at every stage of an investigation.

Investigating gun violence effectively often requires resources and tools: gunshot detection, ballistics imaging, forensic examination, and the court system. According to Burch, "Gun crime is probably one of the more costly types of criminal activity and violence that is dealt with by our criminal justice system."

Then there is the trauma that police officers and first responders experience on the job. Gun violence affects police officer wellness and likely retention rates because "people can't or just don't want to be exposed to that level of repeated pain and trauma," Burch explained. That trauma can also make it harder for officers to do their jobs. "If you have a police officer who has seen this so much that they're numb to the violence, how effective can they be in understanding the community's concerns and impatience around gun violence? We become complacent over time with levels of gun violence."

"It's truly a problem that is compounding in nature," Burch said. "If you don't have the economic engine and the investment being made in those communities, and yet they are disproportionately affected by this type of extraordinarily costly problem, there is this vicious cycle of economic disruption."

Source: Jim Burch in discussion with Kaelyn Forde, Everytown for Gun Safety, April 7, 2020.
Employer Losses
In addition to the general health-care-related costs that employers cover for things like health insurance coverage, disability insurance, and workers' compensation, employers can also shoulder a number of costs when an employee is a victim of gun violence. When survivors' wounds leave them unable to work, the economy as a whole suffers. Employers experience $534.91 million per year in direct costs related to gun violence. This encompasses the costs to productivity such as lost revenue due to unfilled jobs, the value of the time supervisors spend adjusting schedules to cover for lost work, and the cost of recruiting and training replacements when necessary.
Employer Losses
Lost Revenue and Productivity
Lost productivity for victims' employers
Lost revenue in case of unfilled absence
Recruiting and training replacement workers
Carolyn Tuft relies on Medicare after being wounded and losing her daughter to gun violence in 2007.
Read Carolyn's Story

Like many gun violence survivors, Carolyn Tuft of Salt Lake City, Utah, relies on Medicare and Supplemental Security Income to access the continuing care and support she needs after being shot three times. Before the shooting, Tuft was an avid cyclist, hiker, and runner who supported her family of four kids with $2,800 per month from a successful cleaning business. "Within minutes, everything changed," Tuft said.

A gunman opened fire on Tuft and her 15-year-old daughter, Kirsten Hinckley, while they were shopping for Valentine's Day cards at the Trolley Square Mall on February 12, 2007. In an instant, Tuft lost Kirsten, the baby of the family who was "the glue—bubbly, kind, and funny," she said. "It damaged us all in so many ways because it was like that light was put out."

Tuft was left with shotgun pellets throughout her body, which are now causing lead poisoning. Her injuries are life altering and a chronic source of pain. Thirteen years later, Tuft estimates her medical costs are well into the millions. "When I finally came home from the hospital, it was three kids and a very sick mom," she said.

Tuft, unable to return to the physically demanding work of cleaning houses, struggled financially. "When I got shot, I was no longer able to return to work. And when you can't work, you can't pay bills, you can't pay the mortgage—there's that trickle-down effect," she explained. "Everything was gone, and it wasn't a slow trickle. It was a fast one."

Ultimately, she said, "There was just no money coming in. . . . I no longer had a house for us all to live in, and so it tore our family apart." For her kids, Tuft said, "it impacted everyone in such a huge way, and violently."

"I now live below the poverty line on less than $500 a month," she said. "Gun violence throws people into poverty when they're as seriously injured as I was. People never imagine they can end up like that when they are hard working and have successful jobs."

The former small-business owner and independent single mom says she wishes she didn't need to rely on the government for help, but there is simply no other way.

Source: Carolyn Tuft in discussion with Kaelyn Forde, Everytown for Gun Safety, March 17, 2020.
Lost Quality of Life
The damage caused by gun violence, of course, is not limited to the individual who was shot. When a person's life is cut short or altered in this way, the trajectory of their family's life changes forever as well. And the high cost that society bears extends far beyond medical bills.
In America, gun violence costs an estimated $489.08 billion annually in lost quality-of-life. Quality-of-life lost represents the present value of what was irreparably damaged when a victim's life was cut short or a survivor was permanently disabled by gun violence, with a higher amount for younger victims with years of life ahead of them.
Quality-of-Life Costs
Pain and Suffering
Estimate of the intangible loss due to either a life cut short or a person permanently disabled by gun violence.
While these estimates are enormous, they are in fact very conservative. They do not include the indirect impact that gun violence has on many other people in our country, which, if included, would put the price far higher. While this report's quality-of-life-lost estimate includes individuals who were shot and their immediate family, it does not include siblings, extended family members, or the millions of Americans who have witnessed gun violence and been marked by the trauma of it. The collective trauma we all feel when a mass shooting, homicide, or suicide occurs certainly isn't free.
The pain and suffering caused by a single gun can ripple through an entire family, as is the case with gun suicides, which account for nearly six in 10 gun deaths10Centers for Disease Control and Prevention, National Center for Health Statistics, WONDER Online Database, Underlying Cause of Death. A yearly average was developed using five years of the most recent available data: 2016 to 2020. and 60 percent of the total cost of gun violence in America. In comparison to gun homicides and assaults, gun suicides have lower economic costs associated with them—largely because less is spent on criminal justice and incarceration costs—but the immeasurable cost in pain and suffering is a crushing weight to bear.
McKay Moore Sohlberg's husband died by suicide, putting her in financial uncertainty.
Read McKay's Story

McKay Moore Sohlberg's husband, Olof Erick Sohlberg, ended his life with a gun on April 25, 2011, at their Oregon home. A successful urologist, Olof had lunch with his daughter, ran some errands, texted his wife about dinner, and then purchased a gun. Three hours later, he took his own life. Because he used a firearm, Olof's suicide was lethal. Across all suicide attempts not involving a firearm, 4 percent result in death. But approximately 90 percent of gun suicide attempts end in death.1Andrew Conner, Deborah Azrael, and Matthew Miller, "Suicide Case-Fatality Rates in the United States, 2007 to 2014: A Nationwide Population-Based Study," Annals of Internal Medicine 171, no. 12 (2019): 885–95, https://doi.org/10.7326/M19-1324.

In an instant, Sohlberg lost the only man she ever loved, whom she had known since her teens, as well as the father of her girls. She was also thrown into financial uncertainty, worried about how the family would afford to stay in their home and pay for the kids' schooling. "He was the primary wage earner, so that was very scary," Sohlberg said. "I had two children in private colleges and a senior in high school."

Sohlberg's husband had managed the couple's finances, so it was now up to her to figure things out. She said she was more fortunate than most; Olof had retirement savings and a life insurance policy that could help his family in the short term. Long-term, the economic impact of his suicide continues. "It certainly changed the long-term trajectory of what we had both planned, mostly in terms of retirement," she said. "I'm working longer than I would have, and a lot of that is in order to maintain health care, which is so expensive."

There was also the cost to Olof's surgery practice, which had to scramble to find someone who could take care of the patients he had treated for years.

Sohlberg spent years not talking about her husband's death because of the stigma around suicide. But that silence ultimately became too costly. "With the financial and emotional costs I have, I just can't be silent anymore. My kids have rallied me, saying, 'We need to do something. You need to help be our voices.'"

The trauma of Solhberg's husband's death extended far beyond her immediate family. "Even just thinking about the health-care costs from Olof's suicide—every single family member who sought mental health care, and our friends—I can think of 20 people, just counting quickly, who sought mental health services after this," she said.

Source: McKay Moore Sohlberg in discussion with Kaelyn Forde, Everytown for Gun Safety, March 18, 2020.
Cost by State
Not surprisingly, states with high levels of gun violence face higher associated costs, whereas states with lower levels of gun violence and strong commonsense gun laws face a lower financial burden. Mississippi has long been challenged by high levels of gun violence, with an average of 686 gun deaths per year over the past five years and a rate of gun homicide that has increased 129 percent over the past decade. At an average price tag of $3,323 per resident each year, Mississippi has the second-highest per resident cost of gun violence in the United States, which translates into a very high burden for the state.
Massachusetts, on the other hand, can allocate far more taxpayer dollars to productive investments for its residents. Massachusetts has the lowest rate of gun deaths in the United States, with the rate of gun homicides having gone down 6 percent over the past decade. At an average cost of $503 per resident each year, Massachusetts has the lowest per resident outlay from gun violence in the United States (see figure and map below).
The Per Resident Economic Cost of Gun Violence by State
Source: Analysis by Ted R. Miller, David I. Swedler, Kathryn Schnippel Bistline, PIRE, and Everytown based on 2019 nonfatal gun injuries and 2019 gun deaths in 2019 dollars. For further details, see Methodological Note.
See data on the economic cost in your state on EveryStat.
In states with stronger gun laws, such as Connecticut, Hawaii, Massachusetts, and New York, the human and economic toll of gun violence—with a per resident cost below $800 annually—results in more government funds to invest in education, health care, workforce development, and other valuable services and programs that can address underlying causes of gun violence. In states where gun laws are weaker and gun fatalities are higher, including Mississippi, Montana, and Wyoming, the cost of gun violence is around four times higher, at over $2,800 per resident.
The next graphic illustrates these wide differences by comparing two states with similar population sizes but vastly different firearm death and injury rates and costs resulting from gun violence. Missouri has a population of 6.1 million residents, but with a rate of 20.4 deaths per 100,000 residents and 37.7 injuries per 100,000 residents, the annual burden of gun violence is $17.6 billion. This compares to Washington State, with a slightly larger population of 7.6 million residents but much lower costs—$11.9 billion—due to its substantially lower firearm death rate of 11.1 and firearm injury rate of 11.5 per 100,00 residents.
Neither amount is cause for celebration. But Missouri is a state with some of the weakest gun laws in the country, including no law requiring background checks on unlicensed gun sales and a law allowing residents to carry hidden, loaded handguns in public with no permit or safety training required. Washington, on the other hand, requires background checks on all gun sales, has an Extreme Risk law that allows loved ones or law enforcement to petition a court to temporarily prevent someone in crisis from accessing firearms, and requires that all gun owners store their firearms securely.
Similar Population Sizes, Vastly Different Costs
Washington State
Population: 7,614,893
Overall cost of gun violence: $11.9 billion
Missouri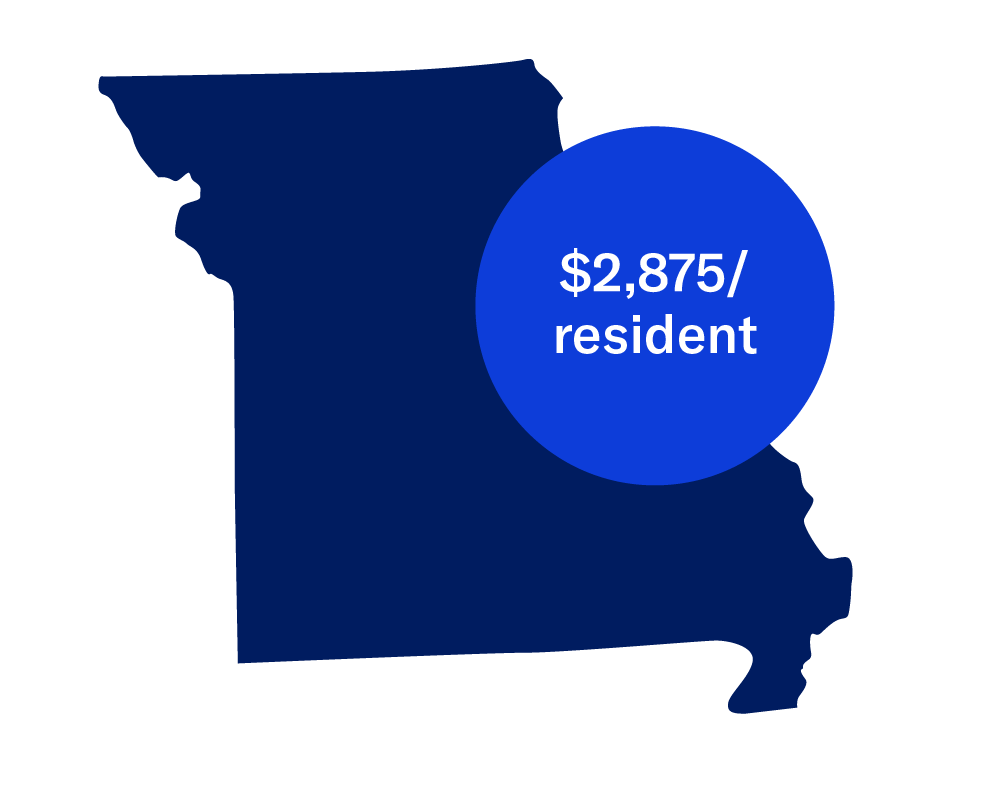 Population: 6,137,428
Overall cost of gun violence: $17.6 billion
Conclusion
"There are so many things our country needs. If we didn't have to be supporting the people whose lives have been ripped apart from somebody irresponsibly buying a gun and using it, it would make a huge difference. Everybody's taxes are paying for the damage."

—Carolyn Tuft, gun violence survivor
With more than 115,000 people shot and killed or wounded each year, the human cost of gun violence in America is staggering. Families, friends, and entire communities suffer the long-term and irreparable impacts of these tragedies—physically, emotionally, and financially.
While the stories of gun violence survivors carry immense power in driving change, quantifying the financial burden of gun violence offers another important strategy and data point for doing so. This rigorous study finds that gun violence costs America an estimated $557 billion annually, toward which taxpayers pay an average of $12.62 billion, and survivors and their loved ones often pay additional millions over their lifetimes—not to mention the immense cost of quality of life lost. Further, some states and communities—many of which already face heightened gun violence and weaker gun safety laws—carry more of this cost than others, worsening disparities and challenges faced, and lessening the resources available to prevent this cycle from starting.
This report is part of Everytown's efforts to paint a more complete picture of the staggering cost of gun violence in America. Calculating the economic cost of gun violence is a critical addition to this narrative because it puts a price on our collective inaction and equips policymakers, advocates, local leaders, and all Americans with additional information that can help advance action to prevent shootings and keep our families safe.
Everytown for Gun Safety Support Fund would like to gratefully acknowledge the work of Ted R. Miller, David I. Swedler, and Bruce A. Lawrence of the Pacific Institute for Research and Evaluation, and Kathryn Schnippel Bistline and Erica Jade Mullen, for their work to calculate the cost of gun violence; Kaelyn Forde for report drafting and survivor interviews; and Jim Burch, McKay Moore Sohlberg, Carolyn Tuft, and DeAndra Yates-Dycus for their willingness to share their stories.
Everytown Research & Policy is a program of Everytown for Gun Safety Support Fund, an independent, non-partisan organization dedicated to understanding and reducing gun violence. Everytown Research & Policy works to do so by conducting methodologically rigorous research, supporting evidence-based policies, and communicating this knowledge to the American public.