Armed Extremism Primer: The Boogaloo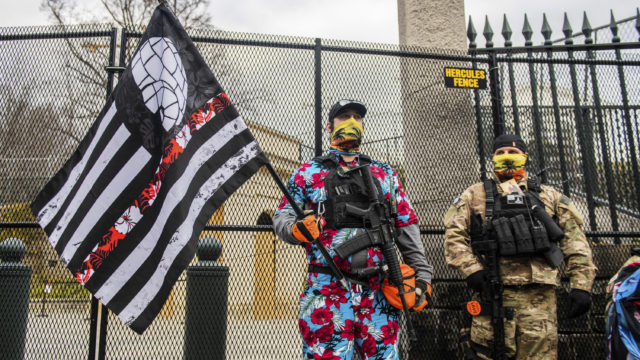 Introduction
The boogaloo movement has risen to national prominence as a new and dangerous subset of the extreme right in the United States. Boogalooers focus on and fantasize about a supposedly imminent second civil war, referred to as the "boogaloo," wherein the corruption they see in the political system will be overthrown. This is still an emergent movement, but its ideological core centers around guns and distrust of authority, whether that be the government, police, or political institutions. The movement originated on the internet forum 4chan, and adherents to the boogaloo movement continue to be active online in various forums and social media platforms.
Many media portrayals have focused on the seemingly quixotic traits of boogalooers, like their habit of wearing Hawaiian shirts, communicating via internet memes, or their name being derived from the 1984 break-dancing movie Breakin' 2: Electric Boogaloo. But make no mistake, the boogaloo movement is inherently violent, well armed, and organized around preparations for a civil war purportedly coming to America's streets. Individuals tied to the boogaloo movement have already plotted attacks and committed violence, and intelligence and law enforcement agencies have pointed to a growing threat emanating from the movement. As previous research from Everytown has demonstrated, an entire extreme-right ecosystem serves as a breeding ground for individuals affiliated with far-right movements such as the boogaloo, providing both inspiration and motivation—whether political, conspiratorial, or racist—for them to act.
The Boogaloo's Fascination with Guns
The boogaloo movement is inextricably linked with gun culture, and many of the elements that animated the boom in anti-government extremism in the past three decades have also animated the boogaloo movement, including opposition to new gun laws. Boogalooers online routinely discuss gun extremism and post various memes glorifying gun violence.
According to researchers at George Washington University, "For boogaloos, the right to possess, use, discuss and parade with firearms is fundamental. Being seen in public with firearms is both a political performance of their First and Second Amendment rights and an expression of their personal identities."1Rhys Leahy, Nicolás Velásquez Hernandez, and Yonatan Lupu, "Prosecutors Claim That a Boogaloo Killed Two Cops. What's a Boogaloo?," Washington Post, June 17, 2020, https://wapo.st/39i2GSP. As such, boogalooers have attended several social justice and political protests, often openly carrying assault-style long guns.
Boogaloo Violence
Adherents of the boogaloo movement have already planned or committed violent acts in the United States, including the following:
Additional resources for in-depth and technical analysis of the boogaloo movement
Policy Solutions to Armed Extremism
Armed extremists seeking to undermine our democratic institutions are a chronic and ongoing problem. In 2020, anti-government extremists, including the ascendant boogaloo movement, used guns—particularly assault weapons—as tools of intimidation and violence in increasingly open ways, including taking advantage of weak state gun laws to brandish weapons at anti-government protests and to intimidate peaceful protests for racial justice, and in planning actions to kill.
Because so much of the boogaloo ideology involves the open display of firearms, especially during protests or at other public places, this violent movement demonstrates the folly of open carry laws. Open carry is a threat to public safety.
Lawmakers and officials at every level of government can take the following three steps to disrupt how extremists use firearms to undercut democracy and promote insurrection.
The law should prohibit the carrying of firearms in and around sensitive government facilities.
Guns should be prohibited at demonstrations on public property.
Armed extremists must be held accountable under existing laws for their criminal conduct.
While no single act will eliminate extremism, these steps—in addition to common-sense gun safety measures—will help decrease the chance of armed extremism violence in the United States.
Everytown Research & Policy is a program of Everytown for Gun Safety Support Fund, an independent, non-partisan organization dedicated to understanding and reducing gun violence. Everytown Research & Policy works to do so by conducting methodologically rigorous research, supporting evidence-based policies, and communicating this knowledge to the American public.